Pubdate:2021-08-13
七夕就要到了!七夕节是中国的情人节,你了解多少呢?
Qixi Festival is coming! How much do you know about Qixi Festival, or the Chinese Valentine's Day?
Qixi Festival/The Double Seventh Festival
七夕情人节指的是农历七月的第七个夜晚,在今年,就是8月14日。这个节日是汉代传统的民间节日。七夕的晚上不仅仅是传说中的"牛郎"和"织女"一年一度相会的夜晚,同时也是为编制姑娘们祈求心灵手巧的好机会。因此,七夕节又叫"乞巧节","女儿节"。
The Double Seventh Festival refers to the seventh night of the seventh lunar month. In 2021, it's August 14. It is a traditional folk festival of the Han people. This night is not only the time when the legendary Cowherd and the Girl Weaver are supposed to have their annual meeting, but also a good opportunity for women to pray for the Girl Weaver for the purpose of seeking dexterity. Therefore, this festival is also named " Maiden's Day", " Daughter's Day".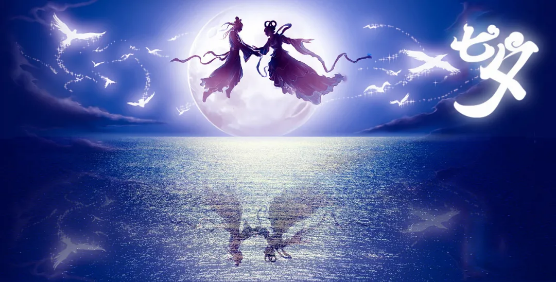 The love legend about Qixi
尽管七夕节不如其它节日那般流行,但是在中国,男女老少都对节日背后的故事相当熟悉。
The day is not as well-known as many other Chinese festivals. But almost everyone in China, young or old, is very familiar with the story behind it.
织女和牵牛是天河中相近的两颗星宿,两者并没有什么关联。直到汉朝时,这两颗星宿才被转化为具体人物。牛郎和织女就是从牵牛星、织女星的星名衍化而来。
The Weaver Girl and the Morning Cattle are two similar stars in the Tianhe River. There is no connection between the two. Until the Han Dynasty, these two stars were transformed into specific characters. The Cowherd and the Weaver Girl are derived from the star names of the Altair and the Vega.
传说古代天帝的孙女织女擅长织布,每天给天空织彩霞,她讨厌这枯燥的生活,就偷偷下到凡间,私自嫁给河西的牛郎,过上男耕女织的生活,此事惹怒了天帝,把织女捉回天宫,责令他们分离,只允许他们每年的七月七日在鹊桥上相会一次。
Legend has it that the granddaughter of the ancient Emperor of Heaven was good at weaving, and weaved the sky every day. She hated this boring life, and secretly went down to the mortal world, privately married to the cowherd of Hexi, and lived a life of men and women. Angry the Emperor, the Weaver Girl was taken back to the Heavenly Palace, and they were ordered to separate. They were only allowed to meet on the bridge on July 7 each year.
他们坚贞的爱情感动了喜鹊,无数喜鹊飞来,用身体搭成一道跨越天河的彩桥,让牛郎织女在天河上相会。
Their strong love and affection moved magpies, countless magpies flew, and used the body to form a color bridge across the Tianhe River, allowing the Cowherd and the Weaver Girl to meet on the Tianhe River.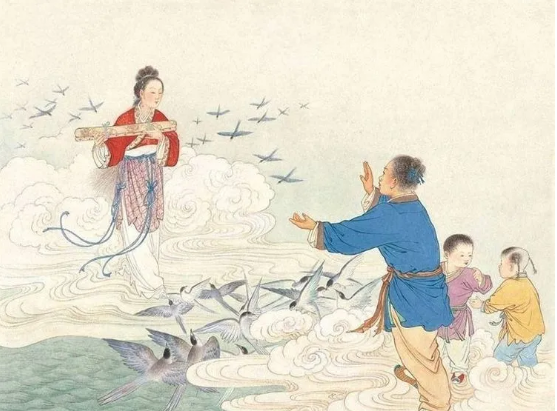 如今,一些传统习俗已经弱化。人们现在把七夕节当作浪漫的情人节来庆祝,尤其是在年轻人中间。
Today some traditional customs have been weakened. Now the festival is celebrated as a romantic valentine's day, particularly among young people.