Pubdate:2021-03-12
上次我们发布了"中国成语 Chinese idioms in English【Part 1】"的文章。
Last time we published "中国成语 Chinese idioms in English【Part 1】"。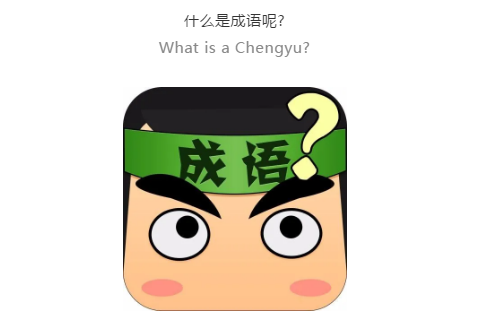 Here comes the "part 2"!
谈虎色变
One's expression changes when "tiger" is mentioned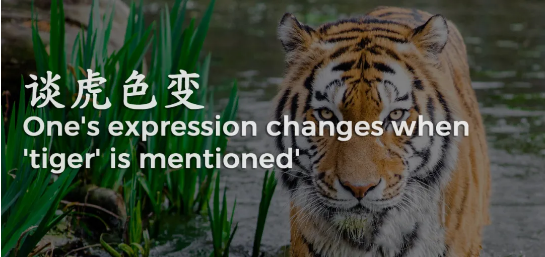 Vocabulary
| | | |
| --- | --- | --- |
| Chinese | Pinyin | English |
| 谈 | tán | to talk to |
| 虎 | hǔ | tiger |
| 色 | sè | color/ face |
| 变 | biàn | to change |
| | | |
从前,有一个人向他的村民谈论老虎的危险。讲故事的人详细叙述了老虎伤害人的所有方式。人群中有一名男子,他之前曾被老虎袭击,差点丧命。听到讲故事的人提到"老虎"这个词,男人的脸就变得苍白,并且感到深深的恐惧。
Once upon a time, there was man talking to his fellow villagers (村民 cūnmín) about the dangers of tigers. The storyteller went into great detail about all the ways a tiger could injure a man.In the crowd was a man who had previously been attacked by a tiger and almost lost his life. Hearing the storyteller just mention the word 'tiger,' the man's face turned pale (苍白 cāngbái) and he felt a deep sense of dread.
谈虎色变 (tán hǔ sè biàn)当前的意思是,一提到危险,脸色就变得苍白、害怕。现代的例子通常不指老虎,而是自然灾害,或者人身危险,比如恶霸。
The current meaning of 谈虎色变 (tán hǔ sè biàn) is to become pale and frightened the instant a certain danger is mentioned. Modern examples typically don't include Tigers as many dangerous scenarios, like natural disasters, or personal dangers, like bullies.
守株待兔
Holding a tree and waiting for a rabbit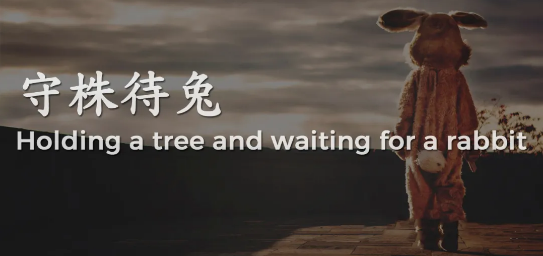 Vocabulary
| | | | |
| --- | --- | --- | --- |
| 守 | shǒu | adj. | hold |
| 株 | zhū | n. | plant |
| 待 | dài | v. | wait |
| 兔 | tù | n. | rabbit |
| | | | |
在春秋时期,有一个农民,他的田地里有一棵树。在工作了一天之后,他经常在树下休息。
During the Spring and Autumn period, there was a farmer (农民 Nóngmín) who had a tree in his field. He would frequently rest under a tree after a long day of working.
一天,他正在地里干活,看见一只受惊的兔子从他身边跑过,突然撞到树上,死了。农民非常高兴!他不需要付出任何努力就能得到一顿免费的晚餐。
One day, he was working in the field and saw a scared rabbit come running past him, crash into that tree, and die suddenly. The farmer was overjoyed! He had just gotten a free dinner without having to put in any work.
那天晚上,农民吃着炖兔,有了一个想法。"既然我有一棵能让兔子自己撞上来的树,为什么还要费事种地呢?"农民很喜欢这个想法,从那天起,他就弃犁而去,坐在树旁,等着另一只兔子撞过来死掉。
While eating rabbit stew that night, the farmer had a thought. "Why even bother farming, when I have a tree that rabbits just ran into?" The farmer really liked this thought and from that day forth, he abandoned his plow to simply sit by the tree and wait for another rabbit to run into it and die.
令农民惊讶的是,再也没有兔子撞树上了。最后,这个农民只剩下了贫瘠的土地,成为了村里人的笑柄。
However, to the farmer's surprise, no more rabbits crashed into the tree again ever again. Overtime, the farmer ended up with barren fields, impoverished, and the laughing stock of the village.
"守株待兔"这个成语和英语表达"坐等某物从天而降"的意思相似。"依赖运气而不付出必要的努力是愚蠢的。"这个成语可以直接用于某人期望某事像过去一样发生的情况。
The idiom "holding the tree, waiting for rabbit" is similar to the English expression "waiting for something to fall into one's lap." It is the folly of relying on luck and not putting in the necessary effort. The chéngyǔ can be used even more literally in situations where someone expecting something to happen the exact way as it has in the past.
狼多肉少
Many Wolves, Little Meat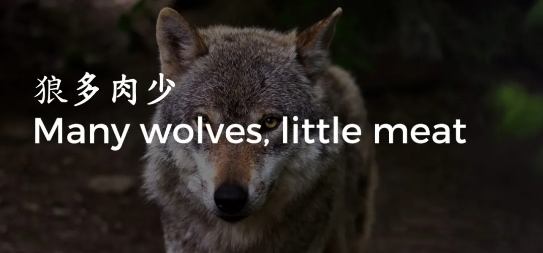 Vocabulary
| | | | |
| --- | --- | --- | --- |
| 狼 | Láng | n. | wolf |
| 多 | duō | adj. | many |
| 肉 | ròu | n. | meat |
| 少 | shǎo | adj. | less |
| | | | |
你会经常听到这个成语出现在有激烈竞争的领域。在中国,典型的例子就是当你申请的一个职位有很多候选人,但职位数量有限的时候。
You'll hear this chengyu come up often when talking about areas of fierce competition (竞争 jìngzhēng). Common examples in China, would be when applying for a job that has a lot of candidates and a limited number of positions.
你遇到过狼多肉少的情况吗?
Have you ever been in a situation with too many wolves and too little meat?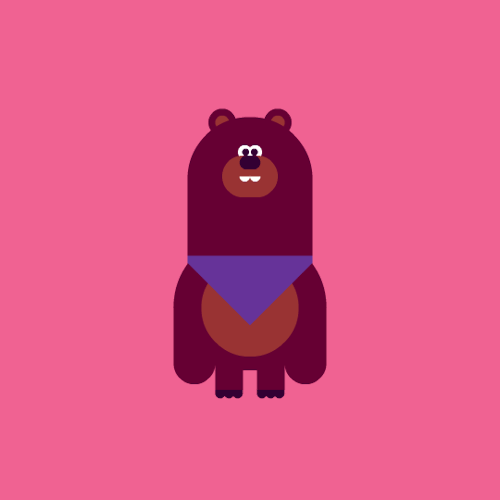 如果你对中文感兴趣,别忘了联系我们哦!
We hope to see you soon!